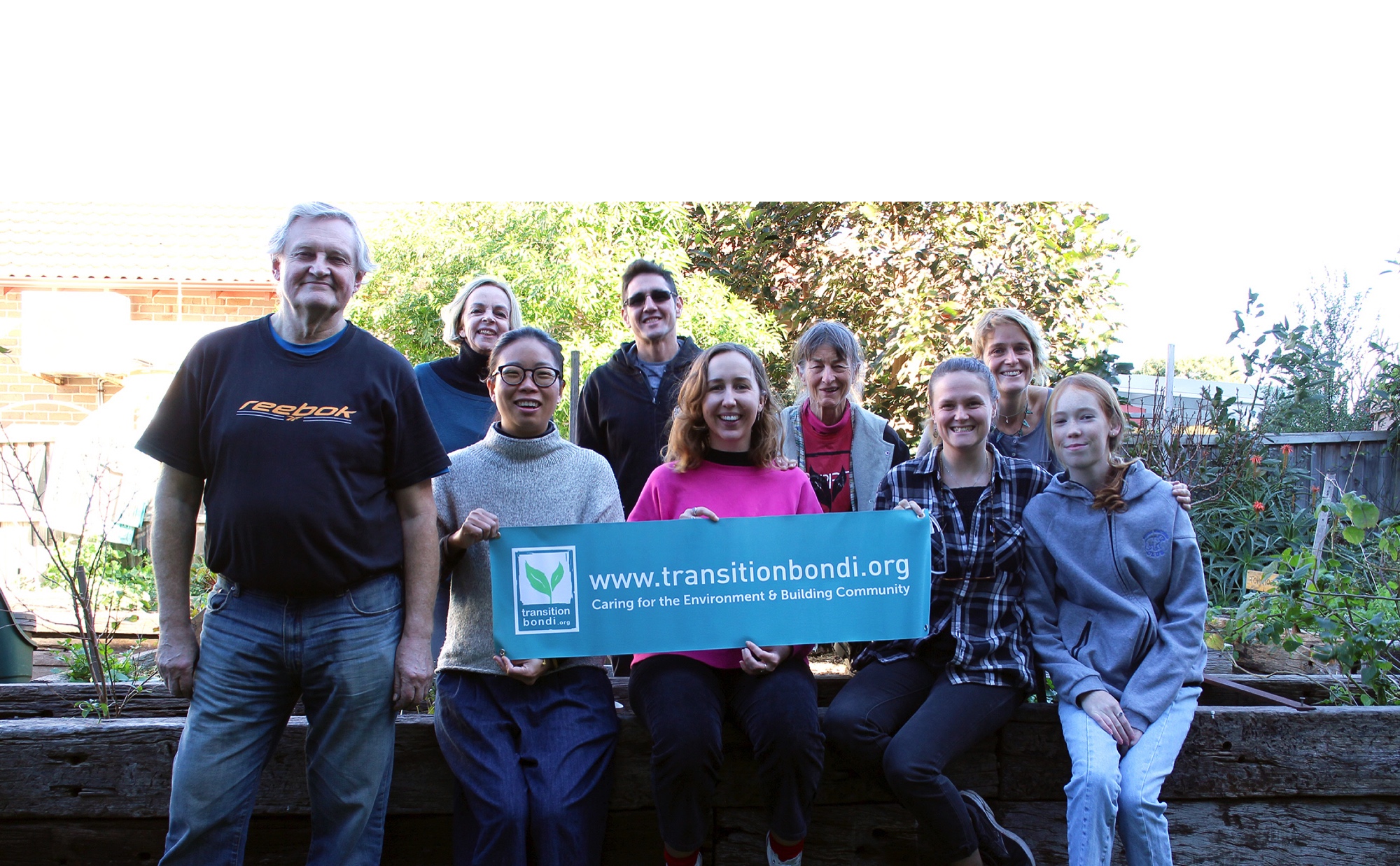 Transition Bondi is a community group in Sydney, Australia, based on the principles of the global Transition Town movement. Through workshops and events, such as our popular Film & Feast night, a monthly Dig Day at our community garden and a farmers market stall, Transition Bondi brings people together to share, learn and be active in creating a more sustainable community and world. We believe addressing the big issues of our time, from food security to dependence on fossil fuels, starts at the local level: here in Bondi Beach.
History
The Transition Town movement started in the UK and Ireland in the early part of the twenty-first century. It was sparked by a simple question: what would a community-led response to the big challenges the world faces look like? Using philosophies, tools, and values from social and cultural movements of the past – including an emphasis on permaculture principles – Transition Town Totnes was born in 2006, and the message quickly spread around Europe and the world. Soon, communities near and far were growing their own food, harnessing clean energy, and experimenting with local currencies.
In 2009, the Transition ethos reached Lance Lieber in Sydney, Australia, when he watched a TED Talk given by Transition Totnes co-founder Rob Hopkins. Rob spoke of peak oil and climate change as well as the stories we've been told for generations about wealth and abundance – from the magic pot of porridge to the elves who make our shoes – which have disconnected us from the truth about labour, energy, and environmental impact. This struck a chord for Lance.
"Now all of these fairytales have come true," Lance says. "We have the giant that can jump from one country to another in the airline companies. We have elves making our shoes; they just all live in China. We have this bottomless porridge bowl; it's in the supermarket. So we have everything we've ever wanted, and now we have to reanalyse our narrative and the stories we tell ourselves."
Lance reached out to the Transition Town Network, who put him in touch with changemakers in Sydney and the Sunshine Coast. After a few meetings and talks, the not-for-profit Transition Sydney was established with Transition Bondi as a pilot project. Meetings began at Bondi FM Cafe and the Waverley Library before a permanent location was secured at Chapel by the Sea (now called Wayside Chapel) on Roscoe Street. The small Transition Bondi group hosted a symposium called Awakening the Dreamer in 2010, and Film & Feast grew out of that once a few more key people, including Kit Shepherd, came onboard. With Kit helming the kitchen, Film & Feast began to incorporate vegan dinners made from local produce delivered via a community initiative called Food Connect. Aside from eventually switching to Ooooby for local produce, Film & Feast ran relatively unchanged for six years.
While Film & Feast was screening top environmental documentaries and hosting speakers like Annie Leonard from The Story of Stuff and Helena Norberg-Hodge of The Economics of Happiness, other initiatives sprung up including the Bike Workshop Free diagnostics check and minor adjustments service at the Bondi Beach Farmers Market – led by Hugh – courses ranging from solar cooking to beekeeping and gardening programs, some of which were aided by Waverley Council grants. In 2015, Transition Bondi raised $20,000 during a successful crowdfunding campaign to renovate the Community Garden at Bondi Road.
Volunteers are the lifeblood of Transition Bondi.
We couldn't achieve anything without them.
Steering Group Members
In alphabetical order.
Chiara is an Italian mum of three.  She's addicted to books and teas, spending time at the beach with her family, and connecting with the local community through gardening and Transition Bondi's educational dinners and events.
Now living in country NSW, Daniel is able to keep up his long association with Transition Bondi, thanks to social media.  He provides valuable insights and views to the Steering Group and writes regular blogs for the website.  He enjoys curating events and likes to find good environmental stories to write about and inspire others. Daniel is a food lover, gardener, storyteller and builder. He loves working with timber and picks up inspiration and tips from Youtube.
Gloria
Treasurer / Brand Manager
Gloria is a graphic designer, workshop organiser and beekeeper and works on maintaining the look and feel of the Transition Bondi brand.  She loves to be part of the connection between people and ideas that flourishes at our workshops. She is also a social entrepreneur, with a passion for African prints, and has her own fair trade fashion label.  Gloria splits her time between Bondi and the Blue Mountains where beekeeping, putting sustainability and permaculture into practice in transforming her property. 
Hugh
Assistant Treasurer/ Governance
Hugh is our numbers man and resident 'cycologist'.  He ensures the group's finances, governance and book keeping are up to date.  His dream that everyone should ride a bike is kept alive and clicking through the bicycle maintenance and servicing set up in his garage (for neighbours) and the regular Bondi School Farmers' Market free bike clinic.  Hugh helped with the construction of the Community Garden greenhouse, where he likes to roll his sleeves up for a dig.  He's also often seen at the door of our community events, welcoming guests.  Hugh enjoys completing the last thing he was working on the day before.
Kit
Convenor/Steering Group Leader
Kit is the driving force behind Transition Bondi.  She coordinates people, events and initiatives with a creative flair that brings out the best in others.  Her willingness for hard work behind the scenes ensures TB runs smoothly.  She has always loved gardening and remembers as a child how she couldn't wait to get out of bed to check the beans as soon as it was light enough to see.  She is a regular fixture at our Community Garden and a keen propagator of seeds and ideas!  Kit loves to gather people at her table and to perform folk-tales with music and mime.  She learned physical theatre school in Paris and has an ongoing interest in physical expression.
Permaculture designer and educator, Lance first heard about the global Transition network from a TED Talk and was immediately inspired to set up a local branch. Transition Sydney is inspired by sustainable communities from around the world. In 2009 Lance kick started the workshops, forums and initiatives that are the backbone of Transition Bondi today, including many thriving community gardens.  Lance has for most of his life been involved in numerous community and environmental projects and he is driven to preserve the remaining wonders of nature.
Lee
Newsletter/Comms Specialist
After a career in public and media relations, in the performing arts, government and health, Lee decided it was time to slow down, smell the jasmine and travel a bit.  A few years on, and half way through the pandemic, an opportunity to volunteer with Transition Bondi using her writing skills came along, and she grabbed it.  Lee loves the power of words to trigger curiosity and prompt action, and the group's scope of interest, from the practical to the spiritual, provides fertile grounds.  When not writing the newsletter, Lee can be found wandering in nature, practising yoga, and singing in a local choir.
Louise says life is about learning and growing and brings her personal and professional experience to provide strategic thinking and clear vision to Transition Bondi.  She's trekked in Peru, kayaked in Norway, climbed Mt Fuji, and provided creative programs to guide children 9-12 years on a pathway to self discovery and confidence.  Louise likes to push people out of their comfort zone, to discover more about themselves and our world.  She also likes to dabble in the Community Garden, supports events and keeps our team on track.  Nothing makes Louise feel more alive than witnessing the sunrise at South Head.
Support Team
In alphabetical order.
Jillian provides valuable support to the Steering Committee.  She admits to being a very curious person and loves learning new things and becoming an expert on the topic.  It is this curiosity that brings her knowledge and insights to the initiatives of Transition Bondi. One of Jillian's passions is Victorian history and she has read 47 of Anthony Trollop's novels.  She is also interested in spirituality and yoga and has completed several epic sailing voyages.
Lise
Marketing & Projects
Lise brings her marketing experience and sustainable living credentials to manage our website and organise events.
Events and Initiatives Volunteers
In alphabetical order.
A special thanks to the many Transition Bondi volunteers who also help in the garden, at the markets and events.