A Bondi verge garden is restored to health
Words by Natalie
I've been living in Bondi for about four years, and have walked by a vacant flower bed outside my unit block every single day. It's always bothered me that it's typically been a dumping ground for rubbish, and nothing much seemed to grow there.
A few months ago, I set out to rejuvenate the garden bed. Some of the great volunteers from Transition Bondi helped, and together we transformed this space into a beautiful little street garden.
Before we planted anything, we tested the soil and found that it was hydrophobic, meaning it does not soak up water. Instead water stayed on the surface and slicked off, which would negatively impact plant growth.
We used compost to improve the soil. Compost is decomposing organic material, in this case a mixture of veggie scraps and garden trimmings. It provides the soil with nutrients, increases moisture retention and has beneficial microorganisms that help create a great growing environment for plants. Luckily the Transition Bondi community garden has a large supply of compost and there was more than enough for my little project.
We dug four small trenches across the bed and added the compost – worms and all. Then we re-covered the trenches with soil and added a layer of mulch over the entire bed.
After a few weeks of daily watering to help the nutrients from the compost work into the soil, the bed was finally ready for some plants. So we put in a bit of everything to see what would take. We planted mint, sage, parsley, rosemary, thyme, cacti, mustard greens, one fennel plant and a number of seeds – pigeon pea, daisy and spinach. There was pumpkin, but unfortunately it got eaten up by some of the bugs!
It is now so beautiful walking past this little garden every day. Since establishing it I've actually talked to some of my neighbours, none of whom I'd had the chance to interact with before. They are excited to get involved with watering duties.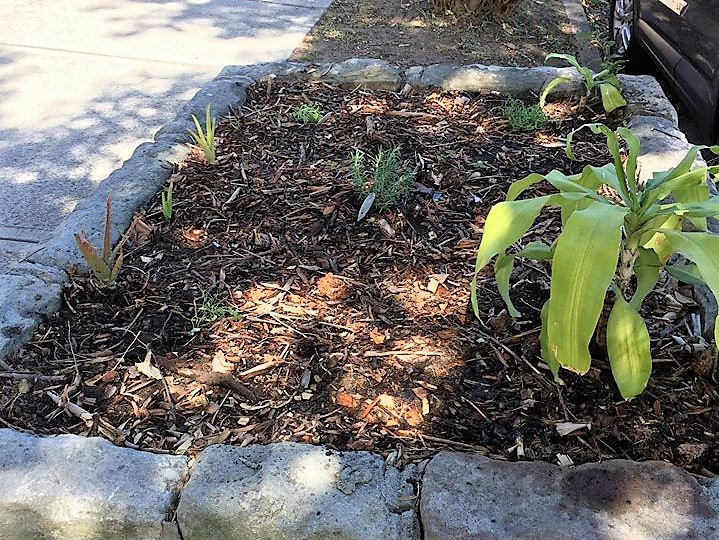 If you have a vacant plot or verge that you would like to transform, Transition Bondi would love to hear from you and help you out with some starter seedlings. Otherwise, come by the 241 Bondi Road community garden for a chat during one of our Dig Days, which are held every second Sunday of the month, from 10am – 12 noon.