Sharing at Transition Bondi's September Film & Feast
Words by Patricia Morgan and Annette Loudon from the Sharing Map Sydney
Annette and I were thrilled to present on the Sharing Economy and our group the Sharing Map Sydney at Transition Bondi's September Film and Feast. As members of the Sharing Map Sydney, which aims to promote sharing for community development and sustainable practices, it was wonderful to connect with so many great people working to promote sustainability!
It may seem strange to think of sharing as something that you need to learn about because wasn't it something we were taught to do as children? Sadly, because of the ongoing fragmentation of our inner and outer worlds by Capitalism and the accelerating pace of life, it is indeed what we need to do.
Our presentation started with a very brief introduction to this history of our fragmentation, in which Western society in particular moved from an understanding of the economy as the "managing of our house holds" to a global economy. This has resulted in what George Monbiot describes as the namelessness and placelessness of modern Capitalism.
So what might be the remedy?  In part we think it is the reversal of this namelessness and placelessness, by drawing our focus away from the global, by leaving virtual spaces and by re-entering our bodies and communities. By knowing our neighbours faces! Just as we're doing in Transition Towns and as happens with sharing in communities. This regeneration of community starts with each of us. As we become re-embodied and "present" to ourselves, so this supports the regeneration of communities, and sharing is a vital part of this.
Sharing to heal ourselves and the planet can start with a simple act such as sharing vegies from your community garden with neighbours in your apartment buildings.  It can move to things like the sharing of ideas, skills and resources such as  in Transition. It can also entail the development of the first sharing map for Sydney, which we encourage you to use.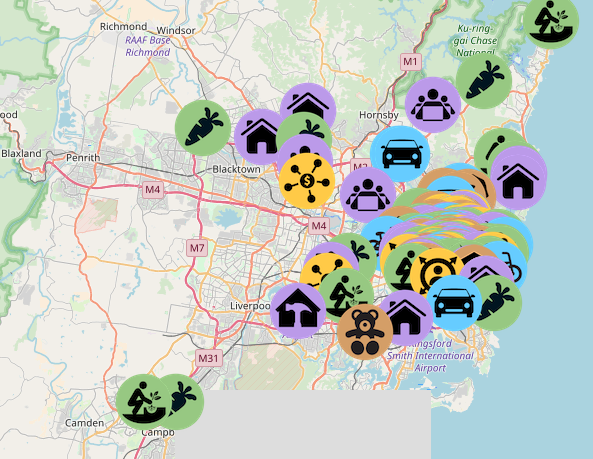 We invite you to add sharing initiatives that you know to the map, or to use the map to find something like the closest tool library in your area.
Encouraging sharing in your community may also include your development of a  new sharing initiative in your area. As a part of the Offers and Needs Market that we ran after our  Film & Feast presentation last month we were thrilled by an audience members suggestion of a beach toy library down at Bondi Beach.  Such a great idea and better still because it would reuse the plastic toys left at the beach! Several other offers and needs were serendipitously matched within and between groups during the exercise.
Have a look at some of the other Sharing Maps in Australia and around the world (scroll down to the end) and to engage with all of the great content about the sharing movement on Shareable.
Some examples of sharing in the Eastern Suburbs
Here are some examples of sharing activities going on around Bondi:
Rhubarb Food Coop
Co-ops are early pioneers of the sharing movement!  Rhubarb Food Co-op is an ethical, not for profit business providing affordable, bulk, organic fresh produce, whole foods and pantry staples, and household goods, and creating, nourishing & serving a likeminded community.
Sydney Eastern Suburbs Pay It Forward Facebook group
The idea is the age old saying "one man's trash is another man's treasure" so if you have anything lying around your home that is cluttering up the place or if you were contemplating putting something up for sale online but have never got around to it, how about giving it to someone in our community who could put it to good use! It's a great way to meet other members, help the environment, strengthen our community spirit and make you feel as though you've done something nice for someone you never thought you would!
Transition Bondi 241 Community Garden
Transition Bondi's community garden is a great example of the kinds of sharing we love to showcase on the Sharing Map. Sharing space, gardening skills, time and energy to grow yummy organic produce.
Thank you Transition Bondi for inviting us to present at the Film & Feast, for the delicious feast, and for your great big hearts! Please add the sharing initiatives that you know of in your area to the map from the be on the map section of the site.