26 January: 230 Years Later
By Stefania Bonatti
It is once again that time of the year – the 26th of January – marked by various events around the country, some solemn, others celebratory. But why the contrast and controversy? There seems to be much confusion surrounding the 26th of January, so we thought we'd offer some needed context.
In 1787, in search of a solution for its overpopulated jail system, Great Britain dispatched Captain Arthur Phillip to lead a fleet of eleven vessels to a remote place charted by James Cook in 1770: Botany Bay.[1] The ships were loaded with prisoners; 548 men and 188 women survived the voyage.
It is important to note that Cook did not discover this country, nor was he among the first explorers to chart parts of what we now know as Australia – in fact, he was one of the last. By 1770, the western and northern coasts of the island had already been known for more than a century to the Portuguese (who had to keep that knowledge a secret due to international agreements, such as the Treaty of Tordesillas[2]) and to the Dutch.[3] Some[4] maintain that the Spanish might have reached the northeast in 1606 under the command of Pedro Fernandes de Queirós.[5]
But back to the First Fleet and its convict load. On 18 January 1788, the ship Supply entered Botany Bay. Phillip immediately realised that the site was not ideal for the creation of a penal colony. While Phillip and his crew waited for the slower ships to catch up, they had their first interactions with the local inhabitants. During the following days, they also went searching for Port Jackson (today's Sydney Harbour), which had previously been named by Cook but not explored. They found it to be ideal for a new settlement, with lots of deep and sheltered inlets and plenty of fresh water.
A week later, on 25 January, the British noticed two large ships trying to enter the relatively protected waters of Botany Bay. Phillip felt he needed to hurry up to 'claim' Port Jackson before others beat him to it (never mind the Aboriginal people who had been living in the area for tens of thousands of years), so he headed north early the following day.
On the morning of 26 January 1788, the Bussole and the Astrolabe, under the command of French explorer Jean-François de la Perouse, arrived at Botany Bay. They were greeted by Captain John Hunter, second in command, who had been left with the rest of Phillip's fleet. The British ships then departed in the afternoon, exhibiting unremarkable seamanship: the Friendship rammed the Prince of Whales while Charlotte, trying to steer away from some rocks, hit Friendship and just barely avoided Lady Penrhyn. By late evening, the First Fleet finally made it to Port Jackson. These are the events that occurred on the 26th of January 1788.
Fast forward to the 19th century in New South Wales and 26 January was called First Landing Day or Foundation Day.[6] These names suggest a clear link with the motherland, Great Britain, and an event, the foundation of a penal colony. In 1838, the day marked the 'Jubilee of the British occupation of NSW.' The date obviously refers to this colony (later state) only, not to the other ones nor the territories to come.
In 1901, the various colonies federated to create the Commonwealth of Australia. Eighty years ago, in 1938, Aboriginal leaders met in Sydney to mark a Day of Mourning to protest their lack of equal rights as well as their general mistreatment by white Australians. Fifty years after that, the date was dubbed Invasion Day by Aboriginal and Torres Strait Islander people. Although Australians ceased to be British subjects in 1984, it wasn't until 1994 (only 24 years ago) that the 26th of January was officially declared Australia Day celebrated across all states and territories.
So, when we look at the big picture, these lands have been inhabited by Aboriginal and Torres Strait Islander people for at least the last 65,000 years,[7] and permanently settled by the British to establish a penal colony since 1788. Australia Day has been officially celebrated only in the last 24 years. From this perspective, it's hard to understand why some people are so attached to celebrating a date that marks the first episode of mass and forced deportation[8] conducted by a now foreign nation (Great Britain) of their people into remote (and already inhabited) lands. That's not to mention the atrocities inflicted upon the Aboriginal people thereafter.[9] And what's 230 years compared with at least 65,000 anyway?
Despite inflammatory debates, there are some positives slowly emerging. There is an increased awareness about this issue, and it is no longer confined to Aboriginals, Torres Strait Islanders and those who sympathise with their pleas. Some entities have made their stance clear – certain councils have avoided celebrating Australia Day on 26 January for some time now.[10] This year, Triple J announced that it will count down its Hottest 100 (regularly held on 26 January since 1998) on 27 January.[11]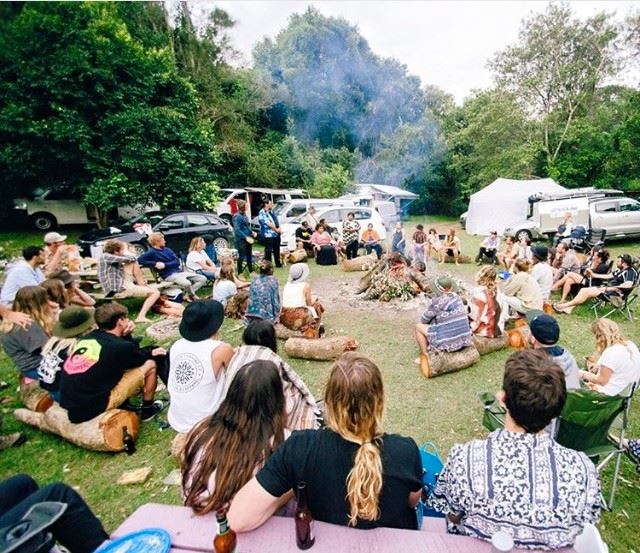 And what about us? What can we do? There are very simple and small actions that everyone can take in their daily lives to show an interest in the first nations that have lived here long before the Europeans' arrival. Be curious about whose land you live and work on. Unfortunately, since Sydney was ground zero for European conquest, a lot of local knowledge has been lost.[12] For instance, we know the south shore of Sydney Harbour is Gadigal territory,[13] however there is uncertainty about the meaning of 'Bondi'[14] (yes, the famous beach has an Aboriginal name). As when travelling to foreign places, try to learn basic words in the local language.[15] The Eora College at TAFE runs language courses. You could also acknowledge whose country you are on during events or even casually in everyday social gatherings – if you are in Manly, you could say "It is a beautiful sunny day on Gamaragal land!"
Participate in local events such as this year's Yabun Festival on Friday 26 January at Victoria Park. Tune in to your local Indigenous radio (in Sydney, try Koori Radio on 93.7FM), watch NITV and get involved with organisations that promote dialogue (YARN Australia was a guest at one of our Film & Feast events in 2016).
You can also take interest in the most recent newcomers and the multicultural country that Australia has become. Learn how to say 'hello' in another language, for instance. Did you know that the second most common language in Waverley is Russian?[16] No one is opposed to celebrating this great country, but it shouldn't happen on a date that represents dispossession and oppression to so many of its citizens.
About the author
Stefania Bonatti holds a Master's degree in Ancient Near Eastern History from Pavia University in Italy. Following her move to Australia, she lived on Noongar Whadjuk territory in Western Australia, where she became involved with Friends of Australian Rock Art (FARA). She now lives on Gadigal land, while she continues to collaborate with FARA.
References
[1] For a detailed account of the facts, refer to Robert Hughes' The Fatal Shore – The Epic of Australia's Founding, Alfred A. Knopf, 1986, chapters 1, 2 and 3; http://www.australianhistoryresearch.info/the-first-fleet/ and http://www.myplace.edu.au/decades_timeline/1780/decade_landing_22.html?tabRank=2
[2] See also Dr. Susannah Helman's Spheres of Influence, in Mapping Our Wold: Terra Incognita to Australia, National Library of Australia, 2013, p. 64-67.
[3] The Dutch produced the earliest printed maps of Australia, which collated information from a number of early 17th century trips, such as Willem Janszoon's voyage around the Gulf of Carpentaria in 1606 and Dirk Hartog's voyage along the west coast of Australia in 1616.
[4] Researcher Gustavo Martin-Montenegro, listen at the SBS Radio Spanish podcast.
[5] Queirós had reached Vanuatu with his two ships, according to Robert J. King (Australia del Espiritu Santo, in Mapping Our World: Terra Incognita to Australia, National Library of Australia, 2013, p. 107). During the return trip, which was conducted along different routes, Luís Vaz de Torres, pilot of the second ship, passed via the strait that today bears his name (thus demonstrating that New Guinea was a landmass separate from Australia).
[6] For this and following years, refer to https://www.australiaday.org.au/about-australia-day/history/
[7] http://www.abc.net.au/radionational/programs/breakfast/65,000-year-date-for-earliest-human-occupation-of-australia/8726280; https://www.theguardian.com/australia-news/2017/jul/19/dig-finds-evidence-of-aboriginal-habitation-up-to-80000-years-ago
[8] In total, approximately 165,000 convicts were deported to Australia from 1788 to 1868 (http://www.sl.nsw.gov.au/stories/convict-experience).
[9] For a map showing some of the massacres that took place in Australia, refer to Lyndall Ryan, Jennifer Debenham, Mark Brown & William Pascoe, Colonial Frontier Massacres in Eastern Australia 1788 – 1872 (https://c21ch.newcastle.edu.au/colonialmassacres/map.php)
[10] City of Fremantle since 2016, Yarra City Council voted on that in mid 2017.
[11] http://www.abc.net.au/triplej/news/musicnews/triple-j-hottest-100-is-moving-to-a-new-date-and-heres-why/9197254
[12] The Australian Museum has useful resources https://australianmuseum.net.au/aboriginal-people-of-coastal-sydney
[13] https://australianmuseum.net.au/clan-names-chart
[14] http://www.waverley.nsw.gov.au/__data/assets/pdf_file/0009/8766/Waverley_Place_Names.pdf
[15] There are numerous sites you can use, e.g. http://www.aboriginalheritage.org/history/language/; http://www.aboriginallanguages.com; http://www.sydneybarani.com.au/language/; http://www.eorapeople.com.au/language/.